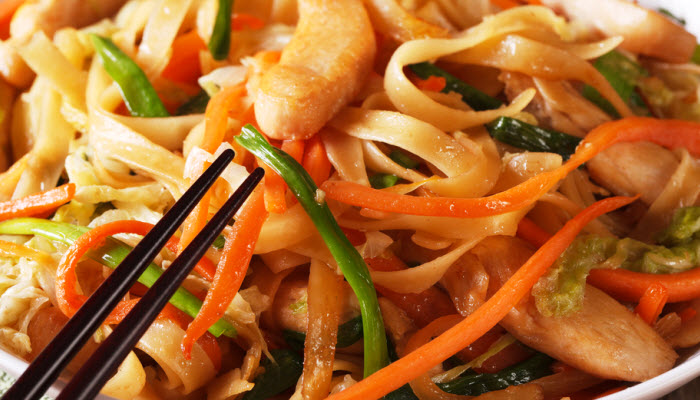 Kosher Chicken Chow Mein is beloved by American Jews and our recipe will have you making this fan favorite at home in no time.
The Backstory: We Jews certainly love Chinese Food.  I have had this type of cooking in some of the best restaurants in New York City's Chinatown and in San Francisco's Chinatown but the one that surprised me the most was a Kosher Chinese restaurant in Borough Park, Brooklyn.  This was located on 13th Avenue between 48th and 49th Street.  It was a few doors down from our family bagel bakery. Many times I would ask my husband to bring home some take out.  I tried many different dishes and was never disappointed. More of the Backstory after the recipe…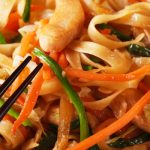 Kosher Chicken Chow Mein
This recipes is just like the old-fashioned chow mein from my youth and it's scrumptious, aromatic, and crispy!
Ingredients
1-2

lbs.

Kosher Chinese noodles

follow package directions

3+

tbsp.

oil

1 1/2

cups

red and green bell peppers

cut into long strips

3/4

cup

onions, sliced into strips

2

cups

celery, cut into small pieces

16

ounce

canned bean sprouts, drained

1+

cup

Kosher chicken stock

3

tsp.

soy sauce

3

cups

Kosher cooked chicken, cut into thick slices

1 1/2

tbsp.

corn starch

1 1/2

tbsp.

cold water

3-4

tbsp.

vegetable or canola oil

crispy noodles

for garnish (optional)
Instructions
Have everything ready to go. Once the prep is done, it will be easier to do the cooking. Cook the Chinese noodles (according to package directions) first and set aside.

In a heavy skillet or a wok, heat the oil on medium to high heat. Add the peppers, onions, and celery. Stir and cook until soft, about 5 minutes. Add the bean sprouts, chicken stock, soy sauce, chicken and combine all. When it starts to boil, remove from heat.

Mix the corn starch and the water, until smooth. Slowly add this to the skillet, stirring constantly. When combined, put the skillet back on the stove. Let it boil for a minute or two. Lower heat to a simmer.

Stir often, for about 5 minutes. Remove from heat. Put the cooked noodles on a serving platter. Pour the chicken on top. Garnish with the crispy noodles. Serve hot.
Many of the Kosher dishes were equal to some of the best places I have dined at.  The cooks were all Chinese, and experts at what they prepared. I have had this recipe for Kosher Chicken Chow Mein for decades and never made it until recently and it was just as delicious as I remember having it all those years ago. This dish can be served over rice or cooked Chinese noodles.  Check with your Kosher market for the noodles or the rice. Don't forget the crispy ones, that can be sprinkled on top of the dish or used in our favorite soups.
Please follow and like us: