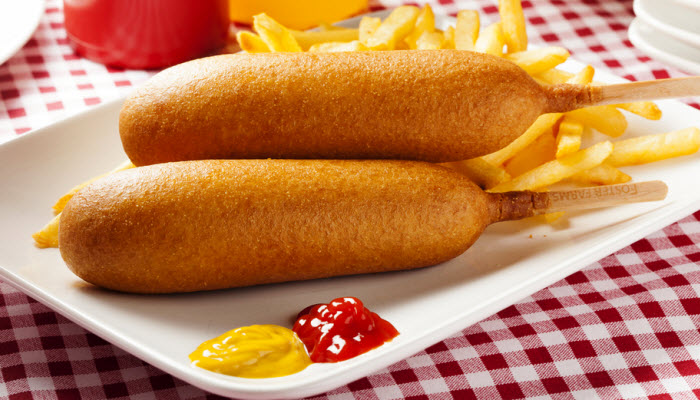 Homemade Kosher Corn Dogs
Homemade Kosher corn dogs bring the carnival right to the dinner table with this delicious treat!
The Backstory: Here is another recipe that can please children as well as adults. True confession: hot dogs are my favorite food.  As much as I like the traditional way of having hot dogs, served with mustard and sauerkraut, I will try anything that is made with a hot dog. These homemade Kosher corn dogs make a pretty and fun presentation and  let's face it–kids tend to look at foods and make quick decisions about whether or not they should try it, eat or pass on it. I doubt if they would take a pass on these. These not only taste good they're fun food! These can be can be served with french fries, and corn and the usual condiments (mustard and ketchup). More of the Backstory after the recipe…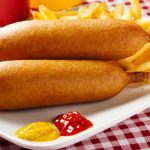 Homemade Kosher Corn Dogs
The hot dog is surrounded by a golden crust, after it is fried. The side accompaniments just adds extra flavors to the dogs.
Ingredients
10-12

Kosher hot dogs

2

tbsp.

sugar

1

large egg

1/2+

cup

yellow corn meal

2

tsp.

baking powder

1/2

cup

flour

1/8

tsp.

Kosher salt

1/2

cup

water

2

tbsp.

oil

3+

cups

oil, for deep frying

10-12

lollipops sticks

the sticks can be submerged in the oil
Instructions
Heat 3 cups of oil in a very large skillet, or a very wide deep fryer. Temperature should reach 375 degrees before you start to fry the dogs. Insert a lollipop stick into each hot dog. Set aside.

In a deep bowl mix the corn meal, flour, sugar, baking powder, salt, water, egg and 2 tbsp, oil. Set aside and let this rest for about 5 minutes. Pour enough of the batter into a drinking glass that will cover the hot dog. Holding the stick, dip the hot dog into the glass. Refill with the batter mixture as you go along.

Coat each hot dog with the corn meal mixture. Let extra batter drip off the dogs before frying. These sticks can be used in the frying method. This may have to be done in batches. The frying time is about 3-4 minutes. When hot dogs are golden in color remove and place on paper towels.

Serve hot with french fries, vegetable of your choice and mustard and ketchup.
Please follow and like us: