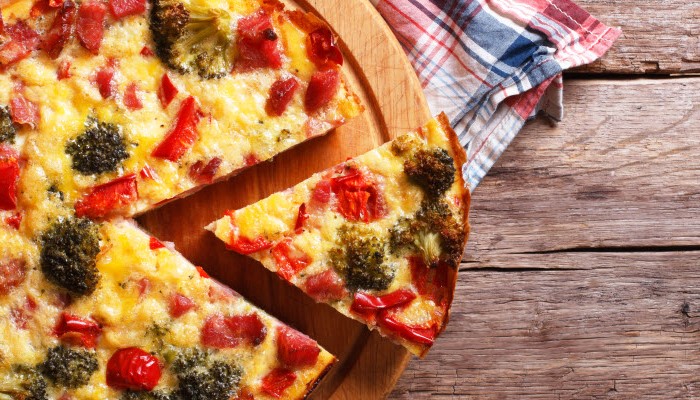 Crustless Vegetable Quiche – Healthy Option
Bring on the quiche and hold the carbs with our delicious crustless vegetable quiche…a perfect choice for lunch, brunch, or dinner..
The Backstory: This savory crustless vegetable quiche is so delicious, you won't even notice that there's no crust!  It's that good. The combination of sauteed broccoli, peppers, and onions add a crunchy sweetness to the egg and cheese mixture and the sweet tomatoes just put the whole dish over the top, This recipe was written to serve a crowd (note the 12 servings and 3 pie pans), but you can easily halve this recipe make it for your family in a smaller 9 x 13 baking dish. It's just that this dish is a crowd-pleaser and once you make it for company or cut up into wedges or squares for a party, you'll see why the larger size makes sense. It's one of the first dishes to go at a potluck or family gathering. More of the Backstory after the recipe…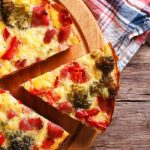 Crustless Vegetable Quiche - Healthy Option
Cheesy, savory, and full of sauteed veggies, this delicious quiche is a wonderful party dish (it feeds a crowd), pot luck favorite, and even works as a finger-food appetizer. It's so tasty, you'll never notice that it's crustless--you'll be too busy licking your fingers.
Ingredients
2

tbsp.

margarine, soft/tub, zero trans fat

1/3

cup

dried bread crumbs, whole wheat

2

tbsp.

canola oil

1 1/2

cups

onions, chopped

1 1/4

quarts

broccoli florets

3

cups

sweet red bell peppers, chopped

6

large

whole eggs

3 1/2

cups

egg whites

1 1/2

cups

low fat milk (1%)

3

cups

cherry tomatoes

1

cup

Cheddar cheese

1

cup

Mozzarella cheese, part-skim
Instructions
Spread margarine on the bottoms of 3 10-inch pie plates or one 12 x 20 x 2-1/2 inch pan and sprinkle bottom and sides evenly with breadcrumbs.

Heat oil, add onions. Cook until softened. Then add broccoli and peppers and stir-fry until tender-crisp.

In a separate bowl, beat together eggs, egg whites and milk.

Add the onion-broccoli-pepper mix, sliced cherry tomatoes and cheese to the egg mixture and stir.

Add to pie plates or pan and bake at 350 degrees for 40-45 minutes until firm to the touch, knife inserted comes out clean and eggs reach a minimum internal temperature of 180 degrees F for 15 seconds.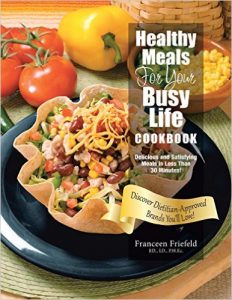 …The Backstory continues: You can find other tasty recipes in my latest cookbook, Healthy Meals for Your Busy Life. In my new book, I've created a collection of delicious and satisfying meals from Moroccan Fig, Pine Nut, and Black Bean Couscous to Baked Apples — that you can prepare in 30 minutes or less. I know you'll love them and that they'll leave you feeling full, satisfied, and happy that you've made healthful choices that don't sacrifice on taste!
Please follow and like us: