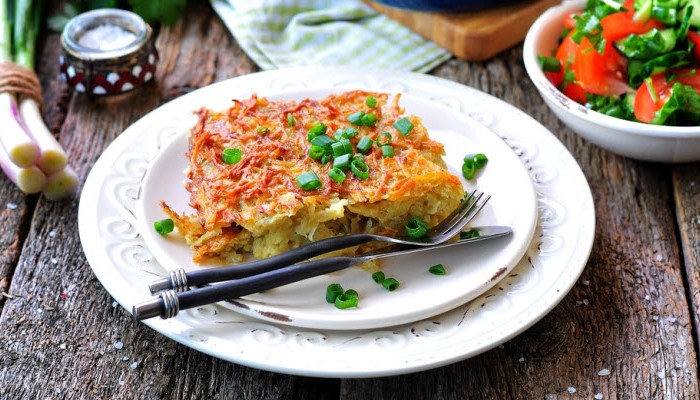 There are many ways to make this classic side, but our crispy potato kugel is savory from green onions with a surprise topping that takes it over the edge!
The Backstory: This crispy potato kugel recipe was given to me when I had lunch with my girlfriend Dini recently.  She also brought a shopping bag loaded with other recipes. I will be listing some of her delicious  treasure trove of goodness soon. Her friends from the Temple she attended incorporated this recipe into their cookbook. Potato Kugel is easier to prepare then Latkes.  You just "dump" everything into a baking dish.  Plop into the oven, and remove when done. She told me that she serves this usually with her Shabbat dinners.  I met Dini about 15 years ago. We played Mah Jongg together. Since the game was disbanded, we keep in touch and manage to meet every few months to catch up on our lives. This petite, beautiful lady is smart, funny and just a great person.  In other words, what a mensch.  Dini was born in Toronto, Canada. Her parents were Orthodox Jews who immigrated to Canada from Poland.  In college she wanted to study nursing. In those years nursing was considered something that a young Jewish girl did not do.  Instead she majored in pattern making. More of the Backstory after the recipe…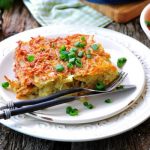 Crispy Potato Kugel
This kugel is so appealing to look at and the aroma is incredible from the garlic and onions. The Rice Krispies give this kugel a surprise crunch.
Total Time
1
hour
15
minutes
Ingredients
8

potatoes peeled and grated

1

onion peeled and grated

2

beaten egg

1

tsp.

Kosher salt

1/4

tsp.

black pepper

3

tbsp.

oil, divided

1

handful of Rice Krispies cereal

green onion, in small pieces

for garnish
Instructions
Preheat oven to 425 degrees.

In a large bowl, combine the potatoes, onions, eggs, salt, pepper, 2 tbs. oil and Rice Krispies. Pour into an 8 x 8 inch baking dish.

Drizzle 1 tbsp. oil on top. Bake for 1 hour. Serve hot. Garnish with the green onions.
This was something she did not take to.  So, shorthand and typing were added to her studies–a respectful field that young women could do.  Dini made a few trips to the States as she had a brother living in New York. She finally moved here after World War 2.  She eventually married an American and spent the years raising a family. She has lived in Florida, now for many years. With family still living in Toronto, she travels back "home" for all the major events. I know you will enjoy her version of potato kugel.
Please follow and like us: