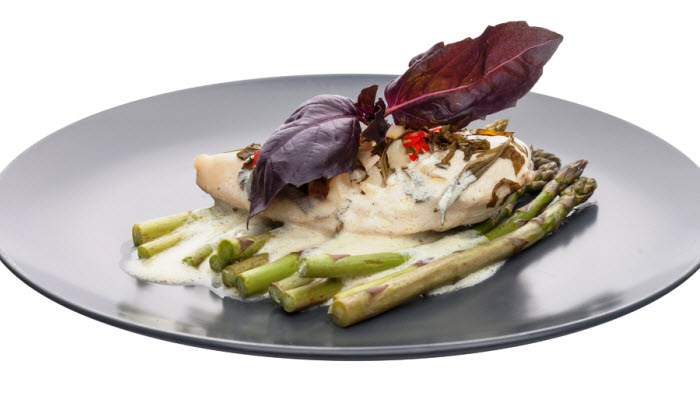 Creamy Chicken with Asparagus
Creamy chicken with asparagus is one of our top picks for company–it's delicious, makes a gorgeous presentation, and everyone asks for the recipe!
The Backstory: This is another recipe from my girlfriend, Annette and after making it, I'm so glad she gave it to me. Her recipe for Creamy Chicken with Asparagus is absolutely scrumptious and hands-down, a perfect go to recipe when you need something special for company or a family gathering. Annette also gave me Chicken with Salad Dressing (also fabulous) from her vast collection of recipes. As she told me, she decided to give away almost all of her cookbooks years ago. I wish I was a recipient of them. As with most of us who live alone, we find that our cooking routines are very different from the way they used to be. I made this one time when my niece was over for dinner. We both found it to be quiet delicious.  I will definitely  be making it again.  Dinner for one is anything that is easy, with minimal prep. It could be a salad, sandwich or anything that cooks fast. There is no set time for eating. Forget the dining room table or the kitchen table. Meals are usually on a tray in front of the TV or computer. The good part is that you can even have a meal of all sweets (ice cream, cookies, cake and candy), and no one is the wiser for it. As for dress code, there is none. Come as you are. No explanation needed. More of the Backstory after the recipe…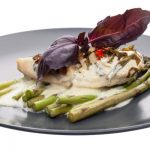 Creamy Chicken with Asparagus
This one-dish meal is easy to prepare and after it is cooked, it tastes absolutely delicious. Serve with crunchy bread, a salad, and dinner is good to go.
Ingredients
4

Kosher chicken breasts

remove the bones and the skin

1

large bunch of Asparagus

cleaned and hard parts cut off

1

10.5 oz. can Cream of Mushroom soup

water

1

small can of Durkes fried onion rings

Optional, add this during the last 15 minutes of baking

4

red lettuce leaves

for garnish
Instructions
Preheat oven to 350 degrees. In a large baking dish spread the asparagus evenly over the bottom. This is so the chicken can rest on them. Place the chicken on top of the asparagus.

Put the soup into a bowl. Using the can, measure in 1/2 can of water and add to the bowl and stir. Pour this evenly over the chicken. Bake for a total of 50-55 minutes, adding the fried onion rings after 30 minutes of cooking.

Remove and let the chicken rest for 5 minutes. Plate putting the asparagus on the dish first and arrange a chicken breast over that, garnish with red lettuce leaves, and serve.
Please follow and like us: