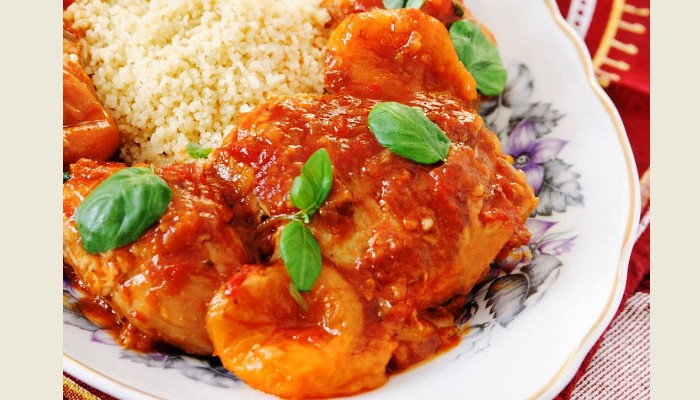 Chicken with Apricot Sauce – Healthy Option
Chicken with apricot sauce is a perfect blend of sweet and sour and a delicious alternative to beef for a holiday feast.
The Backstory: This is one of my go-to recipes for just about any Jewish holiday as it's always a crowd pleaser…and what's a Jewish holiday without a fabulous chicken dish? For the High Holidays, the apricots in this delicious meal remind us of the sweet promise of the New Year and so I often prepare this for Rosh Hashanah, but I also find that this recipe works equally well at Passover, Chanukah, and Purim, when I want to offer something other than a traditional brisket to the non-beef eaters at my table. The succulent chicken, tender apricots, and sweet and savory sauce are truly a delight for the senses. More of the Backstory after the recipe…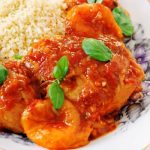 Chicken with Apricot Sauce - Healthy Option
This sweet and savory chicken dish is finger-licking-fabulous. The chicken literally cuts with a fork and the sauce is the perfect balance of sweet and tangy. Fork tender apricots just put it right over the top. This is truly a go-to chicken recipe for company, the holidays, or easy weeknight cooking.
Ingredients
1

lb.

dried apricots, divided

1

cup

boiling water

1 1/2

tbsp.

orange marmalade

3/4

tbsp.

fresh minced garlic

1 1/2

tbsp.

ketchup

1 1/2

tbsp.

Ken's California French dressing

3/4

tsp.

Worcestershire sauce

3/4

tsp.

Salt

3/4

tbsp.

red wine vinegar

1 1/2

tbsp.

lemon juice

1/3

cup

diced onion

2

lbs.

boneless, skinless, chicken thighs

fresh basil for garnish
Instructions
Let 2/3 of the apricots sit in half of the boiling water for at least 30 minutes until slightly rehydrated. Drain water. Add the second half of the boiling water to a food processor or blender with the apricots and puree to a thick consistency. (Add additional water if needed, 1 tbsp at a time to create a thick puree).

Add the puree to a bowl along with the rest of the ingredients (except for chicken and basil) and mix together to form the sauce.

Place sauce over chicken with remaining dried apricots and bake at 375 degrees for 30 minutes or until cooked through (reaches a minimal internal temerature of 165 degrees F).

Garnish with fresh basil.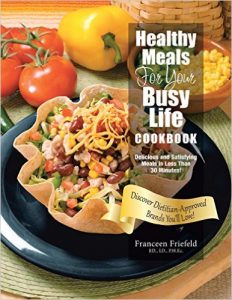 …The Backstory continues: You can find other delicious recipes like this in my latest cookbook, Healthy Meals for Your Busy Life. In my new book, I've created a collection of delicious and satisfying meals from Lemon Poppy Seed Cake to Marinated Cucumber Salad — that you can prepare in 30 minutes or less. I know you'll love them and that they'll leave you feeling full, satisfied, and happy that you've made healthful choices that don't sacrifice on taste!
Please follow and like us: