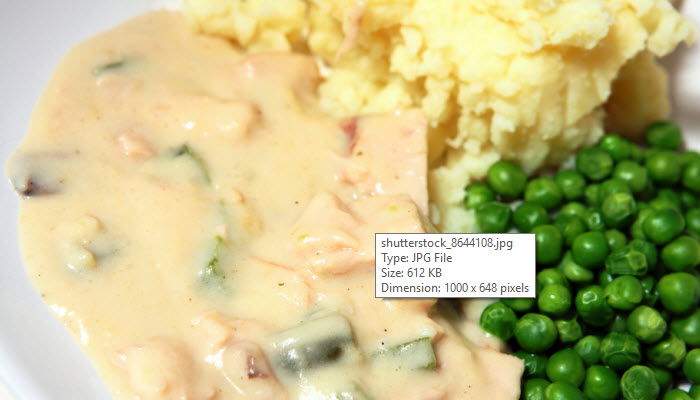 Chicken a la King is a creamy and classic one pot meal that's easy to make and perfect for weeknight dinners.
The Backstory: This recipe came to me from my friend, Dini.  She got this from her friend Faye.  I just love it when recipes are handed down.  It shows a continuity of something between friends of friends, even when you don't know the other person. In looking at the ingredients, I realized that there are a multitude of ways you can use this basic chicken recipe.  It can be used as a la King, served on rice or the filling can be put into a baking dish with pastry and made as a pot pie. A third choice would be to serve this as a creamy soup, like a chowder. More of the Backstory after the recipe…
Chicken a la King Plus
This creamy, savory, and tasty dish is comfort food at its finest. The blend of the veggies and a few herbs add so much to the taste and the signature pimentos give it a sweet but tangy kick.
Ingredients
3

cups

cooked chicken, cut into small cubes

2

tbsp.

margarine

1

cup

chicken stock

1

tbsp.

corn starch

1

small can of pimento, cut into pieces

reserve liquid

2

carrots peeled and cut in small chunks

can or frozen can be used

1

cup

frozen peas

1/2

cup

string beans, cut into pieces

fresh or frozen

1/4

cup

dry sherry

chopped fresh parsley for garnish (optional)

1-2

tsp.

fresh herbs of your choice
Instructions
In a large stock pot, on a low flame, melt the margarine, Add the chicken soup and cook a few minutes. Add the corn starch and dissolve. Stir until the cornstarch starts to thicken the soup. Add the rest of the ingredients, plus the reserved liquid from the pimentos.

Cook for about 15 minutes, stirring occasionally. Remove and serve with rice.
…The Backstory continues: This is the perfect recipe for whenever you have leftover chicken, turkey, beef or even fish. On another note, you may be interested to know that back in 1958, Jennie Grossinger's The Art of Jewish Cooking was published, featuring many of the traditional dishes that we consider the staples of Jewish cooking: latkes, kugel  kreplach and the like. You know, the basics. But on page 58, dear Jennie wrote a recipe for Chicken a la King.
Who knew?
And while her recipe differs somewhat from Faye's recipe (below), the concept is basically the same. And here we are, some 58 years later. I have to believe that Jennie, Faye (and Dini) would have been great pals.
Please follow and like us: