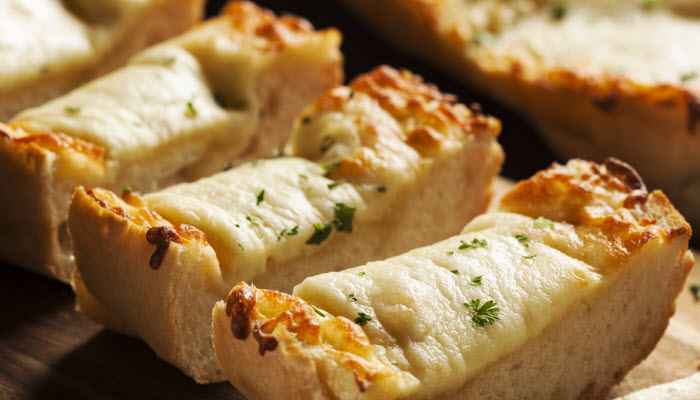 Cheesy garlic herb bread is just begging to be dipped in sauce or soup and takes just minutes to make!
The Backstory: This tasty cheesy garlic herb bread is so popular and easy to make. Yet most of my friends that love this type of bread never make it at home. It is usually eaten when they are at a restaurant. I find that hard to believe. I have made this bread so many times, that I know I never had a formal recipe. It is just one of the things that you can make up as you go along. I like to serve this with fish or pasta. The variations are endless. I have used many different herbs and instead of butter I have used pareve margarine and have even eliminated the cheese. Just plain garlic bread and some herds–fresh or dried.  This way I can make it Kosher to serve with meat or poultry. Experiment with your favorite herbs and seasonings and enjoy. More of the Backstory after the recipe…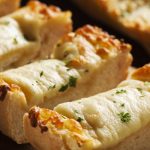 Cheesy Garlic Herb Bread
This cheesy, crispy, well-seasoned bread is addicting! One bite will make you want to take another right away. This is perfect for dipping in tomato soup, mopping up sauce, or nibbling alongside a hearty stew or pot roast.
Ingredients
1

loaf French bread cut in half lenghtwise

or 2 hoagie rolls

1/2+

cup

butter

or pareve margarine

2

clove garlic, finely chopped

1-2+

tsp.

dried oregano leaves

or any herb

shredded mozzarella cheese

enough to cover the bread

olive oil

for drizzling
Instructions
Preheat oven or toaster oven to 350 degrees. If using oven, line baking sheet with parchment paper and place bread on the paper. If using toaster oven, line the tray with aluminum foil and place the bread on the pan. Place the open bread on the pan.

Smear butter on the bread. Put the garlic evenly over the butter. Sprinkle the oregano over the garlic and then evenly divide the shredded mozzarella on the bread. Drizzle a very small amount of oil over the cheese.

Place in oven. Bake for about 8 to 10 minutes. Check often to make sure cheese does not burn. When the cheese is melted, remove from oven. Slice on the diagonal. Serve warm.
Please follow and like us: