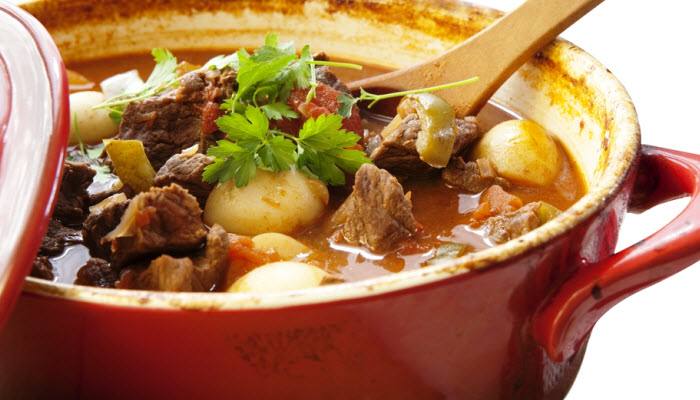 The Backstory: This hearty stew always brings me back to living in New York in the bleak, cold winters months. This easy to make dish, with the broth surrounding the beef and the veggies with their savory seasonings is a delight to the taste buds. Of course, an aroma that filled the house with "I can't wait for dinner" smell, told me what to do next. So naturally, I would have to sample the stew.  Well, a little bit is good. Hmm, let me taste that again. By the time dinner was served, I already had my share. Most cooks will tell you that by sampling their foods during prep, they were usually full to the so-called brim. More of the Backstory after the recipe…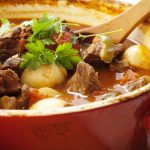 Hearty Beef Stew
I love these hardy one pot meals. The richness of the thick gravy, mixed with large chunks of tasty beef and savory veggies can turn a cold winter day into a heart warming stick to the ribs delight. It is that good. Hopefully it will bring back pleasant memories to you. And can make new memories for your family. Enjoy.
Total Time
2
hours
20
minutes
Ingredients
2-3

lbs.

Kosher beef for stew

cut in chunks

3-4

tbsp.

canola or vegetable oil

4-5

large carrots

cut onto chunks

2

large onions

can use frozen onions

4-5

large potatoes

cut into chunks

1

15 ounce bag of frozen peas

1/2

tsp.

Kosher salt

1/2

tsp.

freshly ground black pepper

2-3

cans

beef broth, 14 oz each

more liquid may be needed, to cover meat and veggies

1/2

tsp,

paprika

2

tsp.

corn starch

2

tsp.

water
Instructions
Heat oil in large pot. Brown beef on all sides.

Add salt, pepper, paprika and broth. Cover and cook on medium heat for 1 1/2 hours. Check often to make sure there is enough liquid, Stir.

After 1 1/2 hrs. add the carrots, onions and potatoes. Cover and cook about 45 minutes to 1 hour. Add frozen peas. Mix water and cornstarch add to pot. Stir cook for 15-20 minutes.

Check to see that meat and veggies are done. If more liquid or thickener is needed, make adjustment with cornstarch and water or broth, and cook another 15 minutes. Serve with crusty bread.
…The Backstory continues: But what I remember most about this stew is my neighbor, Judie's son, Larry. He loved this stew so much, that I promised him that whenever I made it, he was always invited to dinner. Larry shared many other meals with us and I loved having him to dinner. He was a better eater than the rest of my family. They were picky, and always had a comment about everything and a face to go with it. Yet, I think it was more about teasing mom. They took their cue from dad. Dinner in our home was a lively event. I hope it will be as lively and amusing in your home too  How I miss those years.
Please follow and like us: