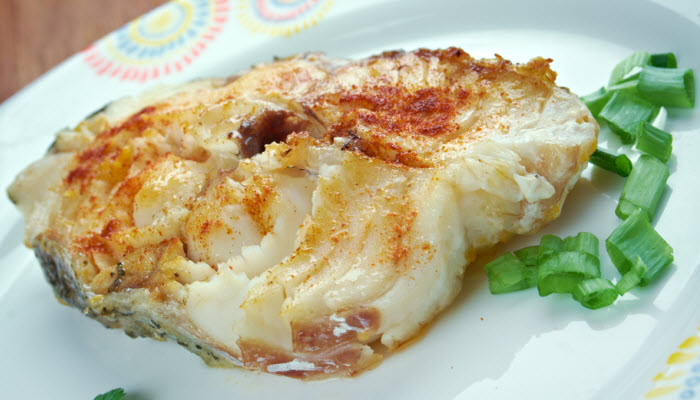 A classic New England favorite, our baked scrod is flaky, light, and perfectly seasoned.
The Backstory: This simple recipe for Baked Scrod can be adopted for most fish dishes. Whenever I visit my daughter and her family in Andover, Massachusetts, we usually have dinner at a wonderful restaurant called Grassfields. Being a creature of habit, I always order the same thing time and time again. I never even bother to look at the menu. Their baked scrod is absolutely the best. It doesn't matter if I order it baked or stuffed, I am never disappointed. My side dish is usually rice, but it also comes with a variety of choices. Doesn't matter what you choose everything is prepared to perfection. This wonderful piece of fish is just so tasty, flaky, light and flavorful.  I could eat it just about every night. Since this is not going to happen, I've learned to prepare this at home. This is pure goodness on a plate. More of the Backstory after the recipe…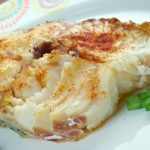 Baked Scrod
The simple seasonings are all that this fish needs to cook up perfectly. It is tasty and flakes apart easily. Nothing fancy, just perfect.
Ingredients
1+

lb.

fresh scrod

1

garlic clove, chopped

1

tbsp.

canola or vegetable oil

1/2

tsp.

Kosher salt

to taste

1/4

tsp.

black pepper

to taste

1/4

tsp.

paprika

to taste

1

green onion, cuts into small pieces

to garnish

1/4

cup

white wine

water can be substitued

lemon slices

optional
Instructions
Preheat oven to 375 degrees. In a baking dish, pour in the wine. Place the fish on top of the wine.

In a small bowl mix together the salt, pepper, garlic, and paprika. Spread this evenly over the fish. Drizzle a little oil over the fish.

Place in the oven and bake for about 17 - 20 minutes. Check fish by flaking off a little piece. When done serve on a platter and garnish with the green onions.
Please follow and like us: