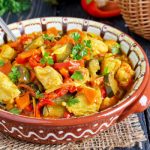 Chicken with Eggplant
This delicious, meal is savory, colorful, and deeply satisfying. The veggies, wine, and seasonings combine beautifully to create a rich sauce for pasta, rice, or noodles and the chicken and veggies to cook to fork tenderness.
1

4-5 lbs. Kosher chicken parts

3-4

medium size eggplant, unpeeled

2

tbsp..

Kosher salt, divided

1/2

tsp.

black pepper, divided

1

cup oil, divided

or olive oil

2

garlic gloves, chopped

1-2

bell peppers, seeded and cut into medium chunks

green, red your choice

1

lb.

ripe tomatoes, peeled and seeded

or drained, seeded canned tomatoes

4

sprigs parsley, chopped

or dill

1 1/2+

cups

white wine

hot chicken stock or water, as needed
Put chunks of eggplant into a colander and sprinkle with 1 tbsp. of salt. Let drain for about 20-30 minutes. Set aside. Heat about 1/2 cup of oil in a very large skillet. Add the chicken and garlic, brown the chicken on both sides. Remove any brown garlic. Then add 1 tbsp. salt and 1/4 tsp. pepper, then pour the wine over the chicken. Cook until almost all the wine is evaporated. Add the tomatoes and peppers If you need any liquid add some water or hot stock to the pan..

In a large stock pot heat the remaining oil. Add the eggplant, and peppers. Cook for about 10 minutes, on med to high heat. Don't burn the veggies. Season with 1 tbsp. salt and 1/4 tsp. pepper and the parsley.

Add everything from the chicken mixture to the large stock pot. Heat all until the chicken is done cooking. Remove and serve in a large deep platter.