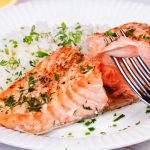 Salmon in a Pouch
The salmon pouch holds in all the flavors. But when the pouches finally open, the aroma from the lemon and garlic fills the kitchen with their savory fragrance.
4

6-8 oz salmon

1/2

tsp.

Kosher salt

1/2

tsp.

black pepper

8

slices of lemon

1

tbsp.

dried parsley flakes

crush with your fingers to release the oils

2

tbsp.

chopped garlic

2

tbsp.

canola or vegetable oil

8

sprigs of dill

4 sheets of aluminum foil
Preheat oven to 375 degrees. Take sheets of aluminum foil, about 8 inches wide. Brush a little oil on center of foil and place a piece of salmon on top.

Mix together the salt, pepper, garlic, and parsley. Sprinkle seasonings on top of salmon. Put 2 lemon slices and 2 sprigs of dill on top of each piece of fish. Drizzle with oil. Bring foil around fish, making a tight seal. The pouches can now be put on a large baking sheet. Put into oven for 17 minutes.

Carefully open the pouches as some steam will be released. This will be extremely hot so be careful. Serve immediately.