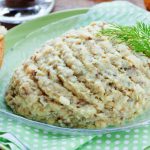 Whitefish Salad
When mayonnaise is added to flaked whitefish, it totally enhances it taste. Add to that, onion, celery and a little lemon juice, and you now have a salad that can match or surpass any old standby.
1

1 1/2 - 2 lbs. large smoked whitefish

1/2 +

cup

mayonnaise

to taste

1

tbsp.

fresh lemon juice

to taste

1

large stalk of celery, peeled and diced into small pieces.

1/2

sweet onion diced, into small pieces

Kosher salt and pepper

to taste
Remove the skin from the fish. Using your hands and a fork, remove all the fish from the bones, checking to make sure you've removed all the small, thin bones.

Flake the fish with a fork. Put into a bowl Set aside.

In a larger bowl, add the mayonnaise and a little bit of the lemon juice, mix until you get the consistency you like. Add some salt and pepper. Mix and adjust until you get the taste you desire. Add the celery and onions. Add the fish and combine. Refrigerate until ready to serve.