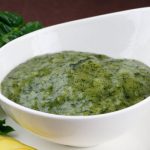 Mashed Potatoes with Spinach
These creamy potatoes get an earthy note from the fresh spinach. A hint of nutmeg is the surprise ingredient that balances the seasonings and makes this a stand out side.
4-6

potatoes, cut into medium chunks

1

10 ounce package of baby spinach

1/4

cup

butter

or parve margarine

1/2

cup

heavy cream

or whole milk or non dairy creamer

1

tsp.

Kosher salt

to taste

1/4

tsp.

freshly ground black pepper

to taste

1/8

tsp.

ground nutmeg

to taste
Boil potatoes in salted water for about 15-20 minutes until tender but not mushy. Meanwhile, put spinach in a pot with a little hot water just until it wilts. Drain well and squeeze excess water from spinach with paper towels or tea towel. Set aside.

Put potatoes (make sure to drain them) in a large bowl. Add the butter, cream, spinach, pepper, and nutmeg. Using a hand blender, on low setting, blend until you get your desired consistency. Check seasonings.