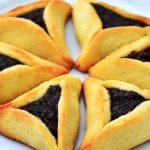 Prune Hamentaschen
Delicate butter pastry surround a sweet , rich, and chewy prune filling that's sure to become a Purim favorite for years to come.
Soak prunes several hours or overnight. Cook until soft in a pot of simmering water. Drain and finely chop. Add the rest of ingredients and mix well. Set aside.

Mix and sift dry ingredients. Add eggs, oil and lemon zest. Mix well. Knead until smooth. Roll out an a floured board to 1/8" thickness. Cut into 4" rounds.

Place a spoonful of filling in the center of each circle. Bring edges together to close tightly. Bake for 30 minutes at 375 degrees.