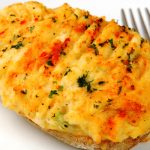 Twice-Baked Potatoes
Baked potatoes are not the most colorful of dishes, but when you start adding toppings--look out. Even in their most simplest forms, twice-baked potatoes are delicious (and nutritious). Be creative and don't forget to look for leftover veggies to top off your potatoes.
2

large

baking potatoes

1/2

tsp.

Kosher salt

1/4

tsp.

black pepper

4

tbs.

butter

or margarine

1/2

cup

milk

or non dairy creamer

paprika for sprinkllng

chopped fresh parsley for garnish

additional toppings such as cheese, veggies (optional)
Wash and pat dry the potatoes. Prick with a fork in several spots.. Put into the microwave and set timer for 5 minutes. After 5 minutes, turn potatoes over and microwave for another 3-5 minutes. Test with a toothpick to see if the potatoes are done. Remove and let cool for a few minutes

Set toaster oven to 350 degrees on the bake setting. Line toaster oven tray with aluminum foil. Set aside. Put the milk, butter, salt and pepper in to a deep bowl. Cut the potatoes in half. Scoop out the potatoes into the butter and milk mixture, and combine all. Place the potato skins on the tray, add the mixture.

Sprinkle on the paprika. Put into the toaster oven. Bake for about 10 minutes. Do not let the tops burn. Remove and serve hot. Garnish with the parsley. If adding cheese or veggies, add during the last few minutes of cooking and watch to make sure the cheese does not burn.