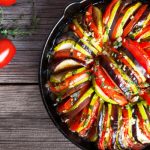 Baked Zucchini. Eggplant, and Tomatoes
This colorful veggie dish is sweet and tender and perfect as a side dish to fish, chicken or beef. It makes a gorgeous presentation (the colors!) and has the perfect balance of sweetness and tartness. Use ripe veggies and fresh herbs for best results.
2

large

zucchini

do not peel

1

large

yellow squash

do not peel

1

medium

eggplant

do not peel

4-5

plum tomatoes

1/2

tsp.

Kosher salt

to taste

1/4

tsp.

black pepper

to taste

1-2

tbsp.

oil

1/4

cup

grated Parmesan cheese

optional
Preheat oven to 375 degrees. In a large round cast iron baking dish spread a little oil on the bottom. Set aside. Wash and pat dry the zucchinis, squash, eggplant, and tomatoes. Cut into 1/4 inch rounds. Alternating the veggies into the baking dish. Sprinkle with salt and pepper.

If using the cheese, put that on top if not using the cheese, still sprinkle some oil over the top. Put into the oven and bake for about 15 minutes. Check often to make sure the top does not burn. When the veggies are soft, not mussy it is done. Depending upon your oven, adjust the time.

Remove and serve hot.