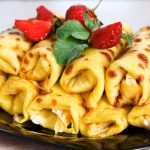 Cheese Blitzers
Golden brown in color, with a sweet creamy filling these blintzes do not need any description except, I bet you can't eat just one.
1 1/2

cup

all purpose flour sifted

1

tsp.

Kosher salt

2/3

cup

milk

1/2+

cup

butter

4

large eggs

1

lb.

creamy cottage cheese, drained

you or 1/2 lb. of softened cream cheese and1/2 lb. of cottage cheese

1

tsp,

pure vanilla extract

1

tbsp.

sugar

1 1/4

cups

water
Combine flour and salt. Add water. Beat until smooth. Add 4 eggs and beat. Add milk and beat until batter is a thin consistency. Set aside. Mix the cheese with the vanilla and sugar. Set aside.

Heat a small frying pan or crepe pan with 1 tsp. of butter on low to medium heat. Pour about 1/4 cup batter into pan. Tilt pan to spread the batter evenly. When the bottom of the crepe is slightly brown and bubbles appear on top, slide the crepe brown side up, onto a plate.

Add 1 tsp. of butter and repeat the process. Remember to always add the butter when doing a new crepe. When all the crepes are made, take one crepe and fill only the brown side, add 1 tbs. of cheese mixture to each crepe and fold sides and roll up.

Melt remaining butter in the pan and place crepe seam side down and brown until golden. This may take several batches. Add more butter if needed. Serve hot with sour cream on the side.