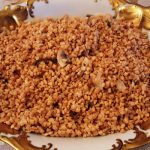 Golden Noodle Barley
This delicious, traditional side dish is a perfect accompaniment to baked chicken, turkey, pot roast or any savory main course. Sauteed onions and mushrooms give it delicious depth of flavor.
Boil 5 cups of water in a medium pot.

Heat oil in a deep pan on medium heat and saute onions and mushrooms until soft and golden brown. Add noodle barley and stir until all ingredients are well combined and until barley is lightly browned, approximately 3 minutes. Do not let barley burn.

Add a ladle of the boiling water to barley mixture and stir. Repeat this process until the water covers the barley; if not, add more water until barley is covered. Add salt and pepper to taste and add the parsley. Reduce heat to low.

Cover and cook for 10 minutes, stir often, until barley is soft and water is absorbed, stirring occasionally. Taste for seasonings and adjust if necessary.