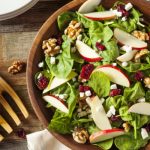 Green Salad with fruit, nuts and cheese
This salad is bright in color and crunchy from the nuts and apples. The apples and berries give it a sweet and tart flavor while the dressing and goat cheese add a creamy smoothness to balance the flavors.
Place spinach leaves on a large platter. Scatter the sliced apple, dried cranberries, and nuts all around the platter. Scatter the cheese. Place on the table,

In a jar, put the Balsamic vinegar, olive oil, garlic, mustard, honey and onion. Close jar and shake vigorously. Pour into a small pitcher that has a spout. Place next to the salad platter, and serve.