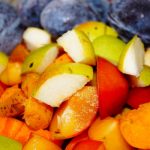 Fruit Compote
Colorful, from all the different fruits. The taste comes from the distinct flavors when the fruits are combined. A hint of cinnamon and nutmeg brings it all over the top. What more can you add to this wonderful dessert.
For the Fruit Compote
Put all fruit into a large pot. Add water to cover. Cook about 10 minutes, stirring occasionally. Add the cinnamon and nutmeg to taste. Cook about 10 minutes until the fruit is soft but not mushy.

Cool and refrigerate until ready to serve.
For the Whipped Cream
Just before serving, in the bowl of an standing mixer using the whisk attachment or with a handheld mixer, beat the whipping cream on high for a few minutes until stiff peaks form. Slowly add the sugar (you can use a little more or less, based on how sweet you like it), as the peaks begin to get stiff). Serve immediately on top or on the side of the fruit.