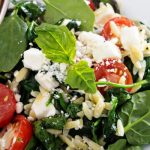 Orzo Salad
Looks like rice, but it is actually a pasta. The added ingredients gives it a colorful appeal. Seasonings brings out the taste of all the veggies and whets your appetite for more.
orzo

use as much as needed for 4-6 servings

3

cups

spinach

or arugula

1/2

cups

blanched broccoli

1/2

cups

red or green bell pepper, chopped, and seeded

or any peppers of your choice

1/2

tsp.

white wine vinegar

to taste

1/2

tsp.

fresh lemon juice

to taste

Kosher salt

to taste

black pepper

to taste

6+

tbsp.

feta cheese

2

tbsp.

slivered almonds (optional)

walnuts or your choice of nuts

1/2

cups

small tomatoes, cut into quarters

or cherry tomatoes
Cook orzo according to package directions. Drain and set aside. Place the salad greens into a deep serving dish. Gently place the orzo on top of the greens.

Place all the vegetables in a separate bowl and set aside. In a small bowl, whisk together the white wine vinegar, lemon juice, salt and black pepper, Pour over veggies to make sure everything is well-coated. If using almonds, add them now and toss.

Gently fold the veggie and almond mixture into the greens and orzo. Sprinkle the crumbled feta on top. Serve with crusty bread. This is a perfect side dish or light lunch.