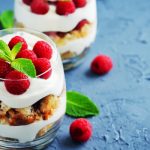 Greek Yogurt Parfaits
Creamy Greek yogurt is layered with tangy fresh berries for a gorgeous to look at--and good for your breakfast and brunch treat. Top with almonds for a crunchy, added surprise.
1

cup

fresh rasbperries

1

cup

fresh blueberries

1/2

cup

granola, any flavor (your choice)

1/4

cup

slivered almonds (optional)

1

32 oz container Dannon LIght and Fit Green Vanilla Yogurt

(this is my preferred brand; choose any brand you like!)
Take 4-6 wide parfait, dessert, brandy, or other wide glass and fill approximately 1/3 up with Greek yogurt. Add one layer of raspberries. (as pictured), and 2 tbsp. of granola. Top with a layer of blueberries.

Add a second layer of Greek yogurt. Add a tbsp. of slivered almonds and top with remaining fruit. Serve immediately.