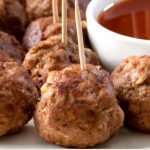 Mini Sweet & Sour Meatball Appetizer
The bite size, tangy meatballs are the perfect party appetizer. They are juicy, delicious, and the perfect combination of sweet and sour. Make sure to make a double batch because they never last long!
Total Time
1
hour
5
minutes
Servings
30
mini meatballs
For the Sauce
1

medium

onion

diced

1

can

condensed tomato soup

10 3/4 ounces

1

can

jellied cranberry sauce

14 ounces
For the Meatballs
1

lb.

Kosher ground beef

90% or leaner

1

lb.

Kosher ground beef

80% or leaner

1

large

egg

beaten

4

slices

white bread

crusts removed, processed into crumbs

1/4

cup

dried bread crumbs

plain

2

tbsp.

fresh parsley

chopped

2

tsp.

Kosher salt

1/2

tsp.

freshly ground black pepper

1/2

cup

hot water

1

lemon, cut in half
For the Sauce
Saute onion in large stock pot without any oil over low to medium heat until onion is translucent but not brown, about five minutes.
Add soup and cranberry sauce and stir together. Cook over low heat until soup and cranberry sauce melt and combine, about another five to 10 minutes stirring occasionally.

While sauce is cooking, prepare the meatballs.
For the Meatballs
Put meat, eggs, dried breadcrumbs, fresh breadcrumbs, salt, pepper and parsley in large bowl. With hands, gently combine. Add warm water and combine once more. Do not over mix or meat will be tough. Before you roll the meatball, stir the sauce on the stove to make sure it is well combined.

Roll out 30 mini meatballs (2 per person) and place gently into sauce. You can layer them if you need to. Spoon a little sauce over the bottom layer of meatballs before you place additional meatballs on a top layer. Add more sauce to the top layer.

Cover the pot and cook for 30 minutes on low to medium heat, stirring every few minutes. After 30 minutes Add the juice of a 1/2 lemon. Hold the 1/2 lemon that you squeezed in reserve. Stir. Check in 5 minutes to see if you have added enough lemon to give it that extra kick. If more is needed, you can also toss in the squeezed 1/2 of the lemon. Stir and cook for another 10 minutes.

Serve on a pretty platter. Put some of the sauce in a bowl for dipping. Insert toothpicks into the meat balls. Enjoy.