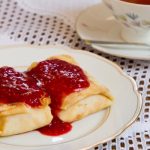 Cheese Blintzes
Delectable crepes are filled with a sweet cheese mixture, then rolled and sealed for baking. These perfect packages can be served as is or topped with berries and powdered sugar for a more decadent treat.
For the Filling
2

cups

farmer's cheese, quark, a thicker cottage cheese or ricotta

6

tbsp

sour cream, mascarpone, creme fraiche or softened cream cheese

2

tbsp

granulated sugar

1/4

tsp

vanilla extract

Few gratings of fresh lemon zest

if desired

2

large egg yolks or 1 large egg
Make the Wrappers
Combine wrapper ingredients in a blender, or in a bowl with an immersion blender, or whisk by hand until smooth. Cover with plastic wrap and refrigerate for an hour or up to two days.

Heat a medium skillet or crêpe pan over medium-high heat. Once heated, brush pan lightly with melted butter or oil. If batter has gotten too thick to pour in the fridge, you can add an additional tablespoon or two of milk or water to thin it. Pour 3 to 4 tablespoons batter into skillet, just enough that it coats the bottom in an even layer when you swirl it around. Let cook, undisturbed, until the crêpe becomes a little golden underneath or at the edges. These can be more pale than dessert crêpe, because they will be cooked again before serving.

Cook the crêpe on each side for about 20 seconds, then slide onto a plate to cool. Repeat with remaining batter, brushing the skillet with additional oil or butter as needed. You can stack the crêpes on top of each other even when they're hot; they will not stick. Either use the crêpe right away, or cover the plate with plastic wrap and use them in the next 2 days.
Make the Filling
Mix all filling ingredients together until smooth. Place 3 tablespoons or so filling across the center of the top wrapper/crêpe in your stack. Fold the bottom part of the wrapper up and over it; fold the sides in over the bottom and filling, then fold the pancake up to form an egg roll-like shape filled pancake. You can use these blintzes right away, or refrigerate them for up to 2 days or freeze them between layers of waxed paper for up to two months.
Serve the Blintz
Heat a pat of butter or oil over medium heat in a skillet. Fry the blintz until browned on both sides. Transfer to a place and serve with sour cream, a fruit coulis or jam or your choice.
Serve plain, or with fruit, such as berries. I made a quick berry coulis, by cooking raspberries in a mixture of sugar and water, which created a syrup. The sweet and tart combination makes for a taste bud explosion!
These freeze very well, so you can make a batch and easily heat them up when desired.