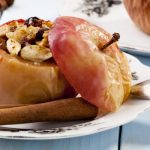 Baked Apples with Pomegranate Seeds and Walnuts
Sweet Honeycrisp apples are stuffed with walnuts, dried cherries, and pomegranate seeds and baked to perfection for a tender, flavorful dessert.
4

Honeycrisp or Granny Smith apples

4

tbsp.

brown sugar

4

tsp.

butter or margarine

1/3

cup

dried cherries or cranberries

1/3

cup

chopped walnuts

1/3

cup

pomegranate seeds

1/2

tsp.

cinnamon
Preheat oven to 375 degrees.

Cut a one inch slice off top of apple, to reserve as a lid for the finished baked apple and set aside. This should leave a flat surface for the top of each apple. Then core the rest of apple leaving 1/2 inch from the bottom uncored so the stuffing does not fall out the bottom. Place the apples into an ungreased baking dish.

Fill each apple with 1 tablespoon brown sugar, 1 teaspoon butter, and 1/8 tsp. cinnamon. Evenly distribute the dried cherries, walnuts and pomegranate seeds between each apple. Top with more cinnamon as desired.

Fill the baking dish with water until water level is about 1/4 inch deep. Bake for 35 - 40 minutes or until apple are tender when pierced with a fork. Spoon baking liquid over apples to baste during cooking process if desired.