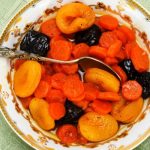 Rhea's Sweet Tzimmes
Sweet and delicious this easy to make recipe will become an instant favorite for you and your family. The pineapple is truly transformative in this recipe!
2

cups

pitted prunes

2

cups

dried apricots

1

cup

raisins

3

lbs.

carrots

1

cup

honey

2

cans

pineapple chunks, 14 ounces each

1/2 -1

cup

Juice from Pineapple chunks

4

tsp.

butter or margarine

2

tsp.

ground cinnamon

Kosher salt and pepper to taste

4-6

sweet potatoes

cut in medium chunks
Preheat oven to 350 degrees.

Put prunes and apricots in a deep bowl. Add boiling water and let them soak for 30 minutes. Drain and set aside.

Peel potatoes and carrots and cut into medium chunks. Cook until tender about 15 minutes (not mushy). Drain.

Combine prunes, apricots, potatoes and carrots and add some of the reserved pineapple juice. Use judgement on the amount of juice to make the mixture moist but not mushy. Pour everything into a greased 6 quart baking dish. Cover with foil. Bake for 30 minutes.

Uncover and add pineapple chunks, Bake uncovered for about 15+ minutes. Check to see if the potatoes are soft. If not continue baking till they are done.