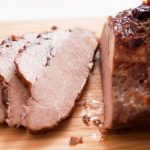 Ricky's Sweet and Tangy Beef Brisket
Brisket always leaves a distinct aroma while it is roasting The seasoning will delight your scents's with its savory flavors. When it is finished roasting the deep rich color of the meat just "screams" slice me now. Unfortunately you have to wait about 10-15 minutes until it can be sliced and served. That is because the juices from the meat have to go back into the meat. So be patient. It is well worth the wait.
Total Time
3
hours
10
minutes
1

5-6 lbs. Kosher beef brisket

2

12 ounce bottle Bennett's chili sauce

or other mild chili sauce

24 ounces water

1 1/2

packets Lipton onion soup mix

4-6

large carrots, peeled and cut into large chunks
Preheat oven to 350 degrees. Use one large size oven cooking bag (the size used to cook a turkey). Mix the onion soup mix, water, and chili sauce in a medium bowl and set aside.

Put the brisket into the bag and add the carrots. Add the onion soup, water and chili sauce mixture. Seal bag.

Place the bag in a pan the size of the brisket so that the juices don't run off and dry up the meat. Pierce the bag 2-3 times on top with a fork.

Cook for 3 - 3/12 hours. Remove from oven and let brisket rest in bag for 15 minutes before opening the bag. Open carefully as steam will release from the bag. Slice meat against the grain and serve with gravy.