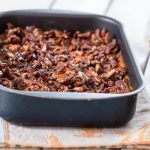 Sweet Potato Supreme
This rich casserole gets a little twist with the addition of juicy apricots in their syrup for a decadent side dish that does not disappoint. Crunchy pecans blended throughout give the sweet potatoes a surprising extra crunch.
Preheat oven to 375 degrees.

Place sweet potatoes in greased 9 x 13 baking dish or 2 quart round or oval baking dish.

Combine sugar, cornstarch, cinnamon, orange zest, apricots and syrup in medium saucepan. Cook and stir until boiling. Add pecans. Pour over potatoes.

Bake uncovered for 25 minutes.