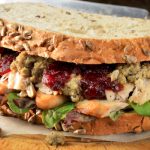 Turkey, Cranberry Sandwich
Cranberry sauce with its sweet yet tangy taste is a good partner for the turkey. It adds the flavor that is needed to something that is not always very moist. Adding some dressing and salad greens to perk up the sandwiches.
1

lb.

slice cooked turkey, divided in fourths

at room temperature.

turkey gravy to moisten the turkey

1

cup

cranberry sauce

salad greens

8

slices good white or whole grain bread

1

cup

stuffing, heated

1/4

cup

Vinaigrette dressing of your choice
Wash and dry a cup or two of salad greens and add a few tablespoons of vinaigrette. Set aside. Reheat the turkey, stuffing and gravy. Set aside.

Take 8 slices of good quality bread, 2 per sandwich. On one side for each sandwich, add some dressed salad greens. Top with sliced turkey and a tablespoon or two of warm gravy. Add a layer of warm stuffing and cool cranberry sauce. Top with more lettuce to keep the cranberry sauce in place. Top with another slice of bread.

Cut the sandwiches in half and serve.