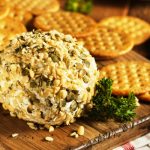 Cream Cheese Balls with Nuts
This savory, crunchy, creamy app is a crowd pleaser that makes a beautiful presentation! Serve with crackers, sliced fruit, and a crispy wine and watch this party starter disappear.
In a small bowl, mix the cream cheese, olives, garlic powder, and salt together. Set aside. Place the nuts in a deep bowl. Set aside.

Form cream cheese ball(s) to your desired size. You can make individual, bite-size balls or you can make one big ball and let people slice off what they want. After forming the ball(s), roll the ball(s) in the nuts coating evenly. Use a dish that you can put in the freezer and place the ball(s) on the dish and in the freezer for 45 minutes. Remove and place in the refrigerator until ready to serve. Serve with crackers.