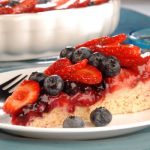 Fruit Flan with Fresh Berries - Healthy Option
This delicious dessert satisfies on all fronts: creamy, fruity, sweet and tart. Fresh berries top a decadent filling and melt in your mouth crust. This flan is also beautiful on the table and perfect for a special occasion when you really want to impress.
In food processor, combine ingredients for base.

Press base mixture onto bottom of 11-inch round cake pan.

For filling, mix sugar and flour in bowl. Toss with blueberries and strawberries.

Spoon fruit mixture over base.

Bake at 350 degrees for approximately 35-40 minutes until bubbly. Let cool under refrigeration at 40 degrees F.

For topping, arrange blueberries and strawberries over flan.

Slice into 10 pieces and serve.
| | |
| --- | --- |
| Nutrition Information | Per Serving |
| Calories: | 190 |
| Total Fat: | 1g |
| Saturated Fat: | 0g |
| Trans Fat: | 0g |
| Cholesterol: | 0mg |
| Protein: | 4g |
| Carbohydrates: | 43g |
| Sodium: | 115mg |
| Fiber: | 2g |