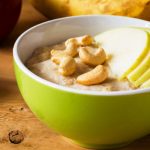 Oatmeal Cereal with Fruit and Nuts
Steaming hot, the aroma of the cereal is enhanced by the aromas from the fruit. The nuts give it that extra goodness by there crunchiness.
Place hot cereal in a deep bowl, Place the fruit, inside the bowl, add the nuts. Serve while it is hot with your favorite drink.