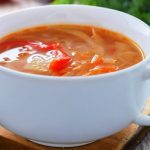 Quick and Easy Vegetable Soup
This delicious soup is filling, full of different textures and can be made based on whatever you have on hand in your fridge. Feel free to experiment with fresh herbs, or any leftovers that you want to use up, and you'll turn to it over and over again.
In a large stock pot, using cooking spray, saute carrots, onions, and garlic. Using low heat this should take several minutes. Add all the other ingredients. Bring to a boil. Stir often. Lower the heat to a simmer. Cook for about 20 minutes.

Remove from heat and serve.