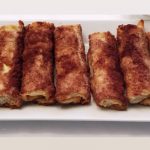 White Bread Cheese Blintzes
These are very delicate rolled- up packs of yummy cheese-filled bread. They are sweet and just melt in your mouth.
1

1 lb. loaf of white bread

1

8 ounce block of cream cheese

at room temperture

1

large egg yolk

1/2+

cup

sugar

to taste

1/4 +

cup

ground cinnamon

to taste

1/2

tsp.

pure vanilla extract

optional

1

stick of butter
Preheat the oven to 350 degrees. Line a large baking sheet pan with parchment paper. Set aside. Melt the butter and place in a wide bowl. Mix the sugar with the cinnamon in a wide bowl. Set aside. Mix the cream cheese with the egg yolk and add the vanilla. Set aside. Remove the crust from the bread. Using a rolling pin, or a drinking glass, flatten the bread a little. Spread some of the cream cheese mixture on all the bread. Roll up the bread.

Dip the blintzes in the melted butter, then in the sugar and cinnamon mixture, Place on the baking sheet pan. Put into the oven and bake for about 15 minutes. Serve warm with fruit or sour cream.

If you want to prepare the blintzes , but use them at another time. Follow all the steps except baking them . Place on a baking sheet pan and freeze them. When your are ready to use them remove from the freezer and bake them at 375 degrees. for about 20 min.