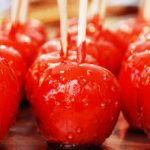 Candy Apples
Sticky and oh so sweet, the crunchiness of biting into this apple is a delicious and fun thing to eat.
Put sticks through stem part of the apples and set aside. Put parchment paper on cookie sheet pan. Spray with baking spray or lightly butter the parchment paper. Set aside

In a heavy sauce pan put in the sugar, corn syrup and water. Stir. Cook on medium to high heat, do not stir while it is cooking. Using a candy thermometer, when it read 300 -310 degrees remove from heat.

At this point if using food coloring add it now and stir. Remember this is very hot. Work fast and dip one apple into the syrup and coat all over, place on parchment paper. Do all . This has to harden. You can refrigerate for 15 minutes and them serve.